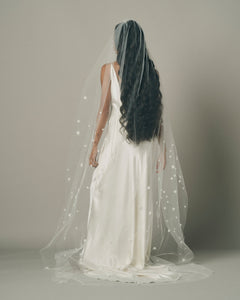 RTS.- CELESTIAL STAR BEADED VEIL
Scattered stars sprinkled throughout this dazzling veil make for a dreamy statement. A beautiful constellation of multi-size, light silver stars beaded on a delicate tulle veil
Styling: For the ethereal. Goes well with silver accented dresses. Perfect to add a story to a more simple ensemble. 
Materials: Nylon Tulle, silk thread, cotton thread, glass beads, metal comb.
Ready to ship! Allow 2-4 day for processing & delivery. Visit our Buying Guide for information on shipping, returns, local currency and more.