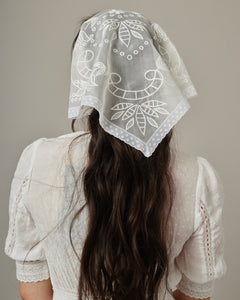 LOLA EMBROIDERED SILK HAIR SCARF
For the modern romantics! Pure silk organza head scarf embroidered with folk floral motifs finished with a delicate lace trim.
Size: 34" wide X 15" long.
Made to order. Allow 5-7 weeks for delivery. Visit our Buying Guide for information on shipping, returns, local currency and more. Custom lengths available upon request at sales@ofrendastudio.com.