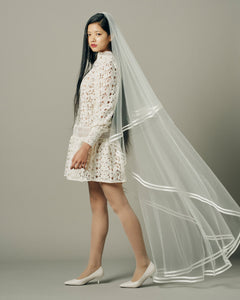 RTS.- EQUINOX DOUBLE SATIN TRIM VEIL
Inspired by the instant in time when the plane of the Earth's equator passes through the centre of the Sun. Our Equinox veil is finished with a pair of linear trims that, like two lovers, chart in a parallel manner around our signature bright golden comb. 
Styling: A modern accent. The cascade effect beautifully frames a clean look dress either made with lace or solid fabrics.
Ready to ship! Allow 2-4 day for processing & delivery. Visit our Buying Guide for information on shipping, returns, local currency and more.