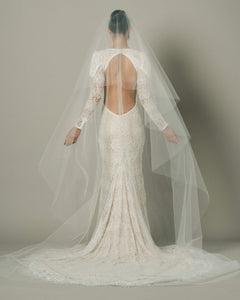 RTS VENUS PLAIN VEIL WITH BLUSHER
Venus is all about love, romance and harmony in our emotional unions. This veil represents our ability to love, to create beauty and find it in all things in life. Sing and dance while celebrating love with this effortless two layer veil made with soft english tulle and finished with the NP golden comb. 

Materials: Nylon tulle, metal comb.
Ready to ship! Allow 2-4 days for processing and shipping. Visit our Buying Guide for information on shipping, returns, local currency and more.