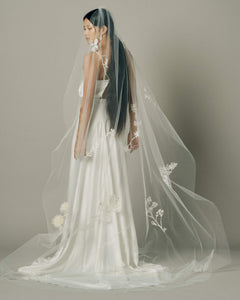 RTS NUIT BOTANICAL EBROIDERED VEIL
A light sprinkle of unique botanical flowers create an ethereal, organic look that is sure to turn heads. Every flower is one of a kind and delicately embroidered onto soft tulle; each with a different technique.
Styling: Perfect to complete a sleek simple dress. 
Finished with our signature gold comb. Made with tulle, glass pearls & silk thread.
Ready to ship! Allow 2-4 days for processing and shipping. Visit our Buying Guide for information on shipping, returns, local currency and more. 
More about Our Nuit Veil and the meaning behind the flowers that make it.