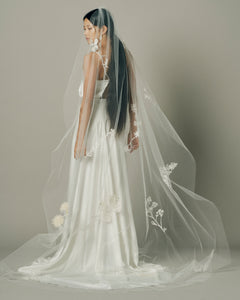 NUIT BOTANICAL EBROIDERED VEIL
A light sprinkle of unique botanical flowers create an ethereal, organic look that is sure to turn heads. Every flower is one of a kind and delicately embroidered onto soft tulle; each with a different technique.
Styling: Perfect to complete a sleek simple dress. 
Materials: Nylon Tulle, silk thread, cotton thread, metal comb.
Shown in photos:
Size 72″W X 108″ L // Colour: Ivory
Made to order. allow 5-7 weeks for delivery.
More about Our Nuit Veil and the meaning behind the flowers that make it.