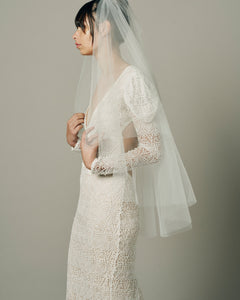 AURA PLAIN FINGERTIP VEIL
An emanation from the soul. A two tier circular veil subtly holding the beautiful emotional energy of the bride who wears it. 
Styling: Very versatile! Goes with any look. Can be worn flipped back or as a blusher. 
Size: 72" diameter with a 29" blusher. 
Materials: Tulle, gold plated metal comb.
Made to order. allow 4-6 weeks for delivery.