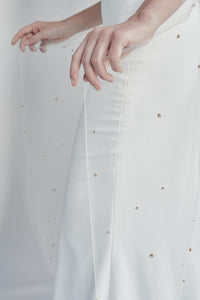 RTS SALT CRYSTAL BEADED VEIL
Grains of multisize crystals attached individually by hand to a whimsical veil. Available with gold or silver settings.

Styling: Versatile and fun! Add it to a modern minimal look or enhance a floral attire. 

Materials: Tulle, silk and cotton thread, crystal, gold plated comb.
Finished with our signature gold comb. Made with tulle, glass pearls & silk thread.
Ready to ship! Allow 2-4 days for processing and shipping. Visit our Buying Guide for information on shipping, returns, local currency and more.