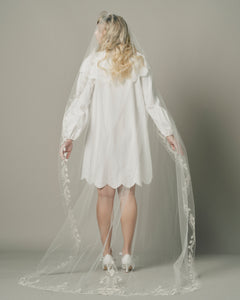 A breathtaking veil with embroidered bohemian motifs inspired by Chikankari embroidery. The ornate, figure-framing trim of the Oracle Veil will leave you floating down between the natural and the spiritual realms.
Styling: For the boho wanderers! Perfect with a decorative dress of to add an ornamented accent to a modern look.
Materials: Nylon Tulle, silk thread, cotton thread, metal comb.
Shown in photos:
Size 72″W X 90″ L // Colour: Ivory
Size 56 ″W X 50″ L // Colour: Ivory
Made to order. allow 5-7 weeks for delivery.