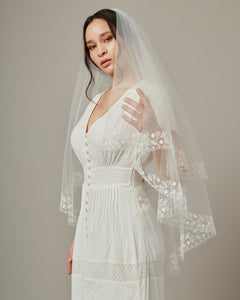 RTS - CATALINA EMBROIDERED FINGERTIP VEIL
Leafy motif ornamental needlework all around a fingertip veil with blusher.

Length: Fingertip 42" with 29" blusher
Finished with our signature gold comb. Made with tulle, cotton & silk thread.
Shown in photos: Ivory
Ready to Ship!. Allow 2-4 days for processing and shipping. Visit our Buying Guide for information on shipping, returns, local currency and more.