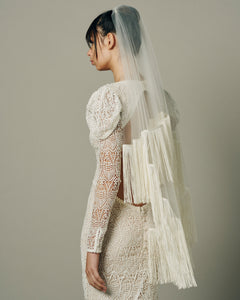 The beginning of a new season.  A celebrating of the start of something new.  A sacred marker in time that reminds us the beauty and the mystery of the Earth's cycle of life. A double-layered, circle-cut fingertip length veil finished with a fringe trim. For the gypsy bride who loves dramatic flow.
Styling: Works with modern looks for a dramatic edge as well as with decorative dresses for a more boho organic flair.
Materials: Rayon fringe, tulle, metal comb.
Shown in photos:
Size 52″ W x 47″ L with a 26″ blusher.
Made to order. Allow 4-6 weeks for delivery.